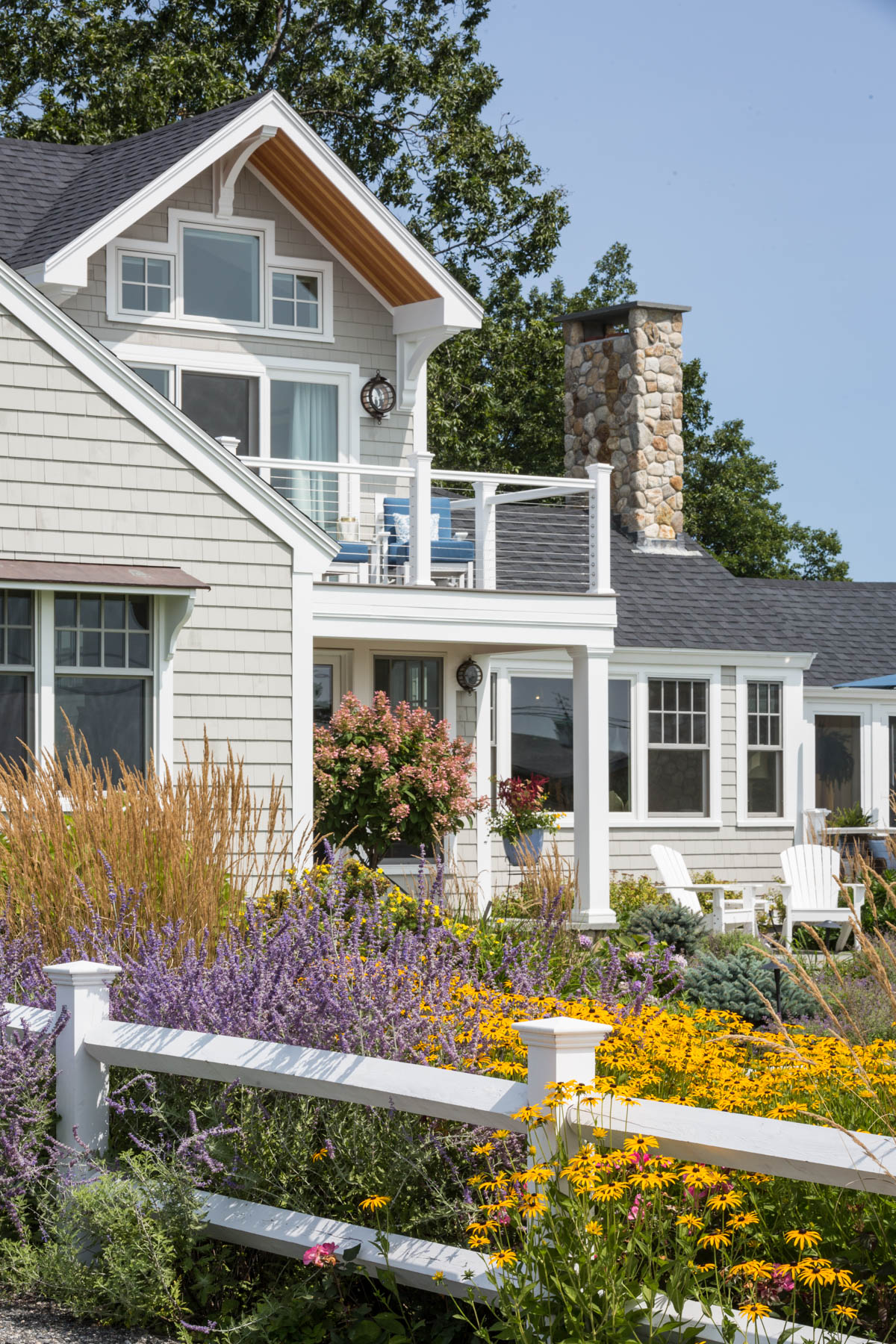 Even though in New England, our ground is brown and the trees are naked, it's time to consider landscaping. Since the beginning of February, the landscapers have been contacting me about getting designs done and placing material orders. But unfortunately, like everything else in the world, landscape materials, plants, trees, and labor are in short supply. 
I typically start with the house footprint then move out to the site, considering overall goals, topography, location, and function. 
HOUSE FOOTPRINT – start with making sure that the house is "healthy" and looking good. By "healthy," I mean it's important to move water away from home and keep a distance between the house and the greenery.

 A Drip Edge is typically the distance of the roof overhang plus 6" and filled with gravel. Below the drip edge can be a French drain removing water from the home perimeter and daylighting it away from home. 

Foundation Plantings are a visual buffer between the yard and house. There is nothing worse than looking at a home, and there is no green buffer softening and welcoming the eye. On the other hand, there is nothing pretty about the exposed foundation. This is a beautiful opportunity to introduce exciting greenery that will bloom at different times of the year and trees that provide shade and interest. 

GOALS – Do you have a deck or patio, firepit or fireplace, water feature or pond, hot tub or pool, pergola, or screen porch on your list?  Incorporating those features first, then considering how to access the space from the house and what you look at from the interior. 

TOPOGRAPHY – The topography of the site and the house with elevation lines is significant. If I get the topography plan from the civil engineer, it's easy to see where the grade needs to change. Some lots offer substantial challenges, so be aware of restrictions on your lot. Making topography work for you is the most cost-efficient solution. 

LOCATION –  If you have plenty of lands, landscape design offers more minor challenges than city lots. But city lots provide an opportunity to be creative and provide privacy. 

FUNCTION – Considering traffic flow from the road into your home and how you will travel and access the house from different outdoor spaces. For the most part, it makes sense to make a circle around the house with one corner reserved for mechanicals such as AC condensers, generators, etc. The city needs to access gas and electric meters by code with no barriers, but you can certainly plant in front of them (they are reading them remotely anyway). Make sure you have enough hose bibbs to reach all your gardens.
When considering your landscaping, jump on Pinterest and find inspiration. ADH has a few landscaping boards that you can access HERE for ideas. Remember that budgets should be considered, but one nice thing about landscaping is that it can be done in phases, so set your priorities realistically.
View Related Projects
---