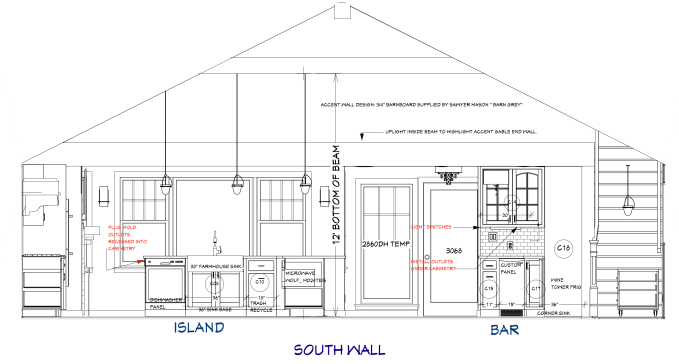 If you are in the market for new cabinetry, it's probably time to learn the ins and outs of cabinetry before pulling the trigger and making the purchase.
The first thing to consider is the cost of cabinetry, where to purchase, design services, and installation.
BOX SHOP or lumber yard: If you are trying to do a quick renovation is simply replace the cabinets in the exact location with the same or similar appliances, I encourage you to go to a box shop or lumber yard (ie. Middleton lumber). Here you will get the customer service that you need to simply replace your cabinets which come in 3" increments of nominal sizes and there will be fillers to make the layout work for you. There are basically no design services needed because you are simply ordering boxes that fit into space. At installation, there will be a lot of fillers to make everything work outright.
CABINET SHOPS: This is where I always hesitate as I haven't had a great experience with this process. Cabinetry is complicated and there are a LOT of moving and detailed parts. When you go into cabinet shops, you are looking at box cabinets that still are limited to the nominal sizes both in width and height. They are also limited in what they can do as far as customization. By the time you have edited a cabinet to make it work for you and your space, you are paying more than a custom cabinet price. I also warn you about their design services as they are going to design your kitchen with the highest profit margin and least creativity possible. If there are any changes from the job site during installation, the wait for new parts is a very minimum of 2 weeks (pre-covid) pushing the timeline and costing the homeowner more money.
SEMI-CUSTOM CABINETS: This is my sweet spot. They are "Semi-custom" because the process of building that cabinet and drawer box is pretty straight forward but from there everything else is custom. The dimensions will fit your height and width requirements perfectly to have no fillers and more usable cabinet space. They are able to build inserts for more customized function, the crown molding will match the entire space beyond the kitchen, and any design feature that you want can be done. I will design the kitchen with the homeowner as a preliminary design and get it priced a few ways and it is inevitable that the semi-custom cabinets come back the same price or perhaps slightly higher. Then I will fine-tune the design by laying out where each and every item will go. Once we are installing the design is able to get tweaked again and the shop responds to the reality of a job site making edits to cabinets as needed. While the price does get adjusted at the end, I find my clients are well aware of the revisions as well as additions that they have made throughout the process and are not surprised by the price adjustments. Plus, they are blown away at the beautiful, functional cabinetry in their home.
APPLIANCES:
Your appliance selections will impact your design so purchase your appliances as early as possible and the kitchen will be designed around your selections. With Covid, some appliances can be back-ordered up to 6 months, so order early. Stores like State Street Discount, Clarke Appliances, Barons, and Ferguson will hold your appliances in the warehouse until you are ready for them. Larger box stores like Lowes or Home Depot have less ability to control that delivery date so just check to make sure your order is placed in a timely fashion.
I spend a lot of time designing and selling cabinetry and it's a very fun and fulfilling part of my job. We have the ability to think creatively with design, finishes, hardware, and details. Let me know if you are in the market for some interesting and inspiring cabinetry.
View Related Projects
---