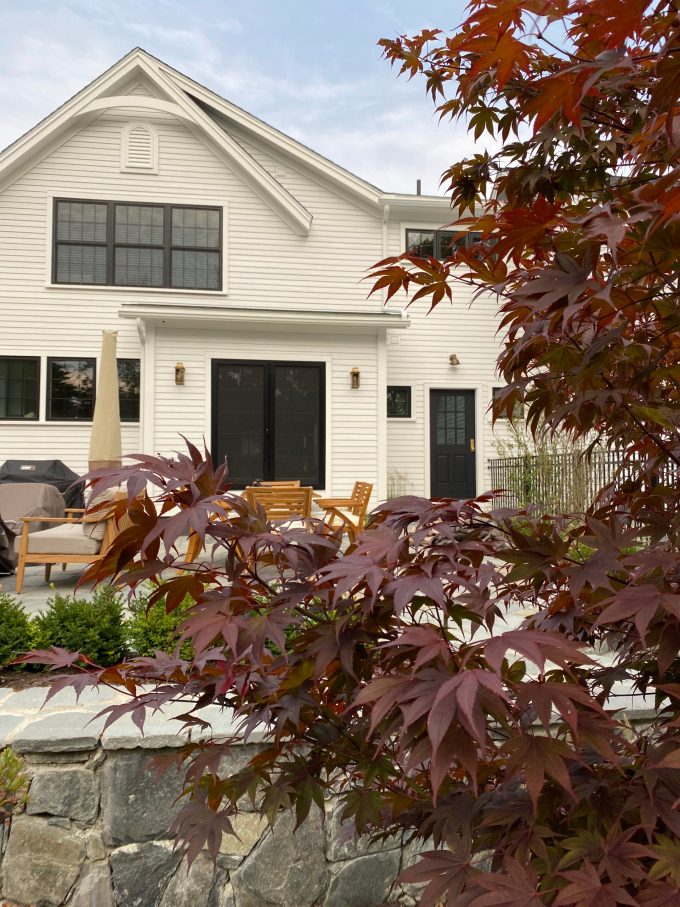 Do you enjoy an open floor plan when experiencing a space?  Creating an open floor plan is a consistent request from my clients and it makes sense for modern living.
When renovating a home that was designed to have formal rooms, we are often taking down walls and installing structural beams to open up space for an open floor plan. When designing new construction, it is always our goal to have a space that is as wide open and comfortable as possible.
In this new construction project, the client was clear that they wanted the kitchen, dining, and living room to run straight into each other.  Furniture can often define the different living spaces. We sometimes need to see the structural beam when opening up spaces and that too is a way of defining the space and creates an opportunity to add different materials on the beams.
In this new construction cape, we were able to use the staircase for the structure to create an open concept between living, dining, and kitchen areas. This common space is accessed both from the front door with a lovely view of the living room and from the mudroom into the kitchen for function. The French doors leading out onto the patio create a nice fully accessible floorplan from the interior to exterior. Off this common space are functional spaces like the butler's pantry, bar, mudroom, and powder room.
It has been a long time since someone has requested a formal dining room with four walls and a door. And I have a hard time imagining that as we move into the future, people will want more walls and divided up spaces in their home. So, I am confident in creating spaces where a man could be cooking dinner while watching a game, the kids are setting the table and his wife is outside in the garden relaxing and enjoying a cup of iced tea.
View Related Projects
---